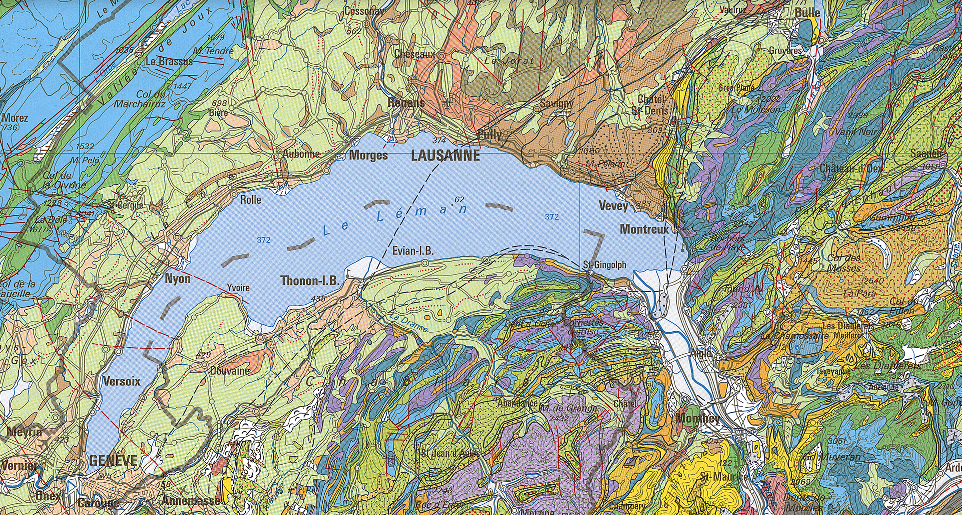 Chasselas is about balance: Terroir, but not too much; Fruit, but not too much; Round and full, but not too much; Acidic, but not too much.—Stéphanie Delarze in Chasselas Forever
---
The History
While most of the world is content to eat chasselas out of hand the Swiss are hard at work transforming its golden-hued berries into what may be the world's most misunderstood wine. The work goes back centuries, with very little fanfare, in the relative privacy of the Lémanic arc. There the chasselas vine is planted on limestone, metamorphic rock, shale, moraine deposits, alluvial soils and whatever else is handy. It thrives in all of them but is prone to over-cropping which exacerbates an already pronounced aromatic neutrality. When indifferently made it can be unseemly: capable of better but blasé in its persistent underachievement. It needs a firm hand and a sense of direction to really flourish and to show off the innate liveliness, discreet charm and pin-point balance of the very best examples.
Chasselas is an orphan grape of ancient origin. We don't know the parents but we can surmise that it is native to the Lac Léman basin. The earliest known printed reference to chasselas is in 1539 when German botanist Heironymus Bock published his horticultural tome Kreutterbuch. There it appears under the name edeldrauben from which the current German synonym gutedel is most likely derived. Later in 1650 Johann Bauhin's posthumously published Historia Plantarum Universalis mentions both fendant and Lausanois for the first time in a discussion of grapes found in Burgundy. These synonyms, and others—including chasselas itself—begin to appear more frequently in the literature after this date.
When Swiss native and UC Davis-trained geneticist Dr. José Vouillamoz aggregated this historical evidence with the results from some slick genetic sleuthing—he noticed the unmistakable clustering of hundreds of genetic mutations gathered in and around the canton of Vaud—he and others then postulated that chasselas is native to the region even without its elusive pedigree as confirmation. It is still the best and most likely statement of origin. With over two hundred genetic mutations now linked to a single grape, chasselas, the business of sorting through the best clones has begun in earnest. Further DNA testing will likely provide more answers.
The Now
In 2010 the Conservatoire Mondial du Chasselas was founded on a tiny 3000 square meter plot above the village of Rivaz. The parcel, donated by Louis-Philippe Bovard, is planted to the most promising 19 clones of chasselas and managed by its foundation for purposes of preservation and scientific study. Of the 19 there are five clones of note: Fendant Roux (currently the most commonly planted in Vaud), Vert de la Côte, Giclet, Blanchette and Bois Rouge. These five are deemed superior and will dominate all future plantings. Current studies are underway to track the effects of clonal diversity in the vineyards and on the finished wine, matching clones to specific terroirs and assessing disease resistance in individual clones. The conservatoire's status as the go-to nursery and repository for all things chasselas should prove invaluable and unequaled.
---
Indeed, maybe acidity is the key word for Chasselas. Some feel there is too little, while others feel there is too much. But a high-quality Chasselas has just the right amount—and by right, I mean inconspicuous, an attribute perfectly in tune with Swiss culture.—Chandra Kurt
---
The Tasting
The Mondial du Chasselas is an annual event that celebrates chasselas interpretations from around the world. This year's competition brought forward wines from Germany, France, Hungary, Canada, the US, Mexico and, of course, Switzerland. The top wines received either gold or silver medals and were offered to the public for tasting at the Château d'Aigle in canton Vaud. It should be pointed out that this is by no means a comprehensive tasting. Many of Switzerland's top producers of chasselas do not participate in the competition for whatever reason. Missing are Blaise Duboux, Raymond Paccot, Louis-Philippe Bovard, Marie-Thérèse Chappaz, among others. This is not a criticism just a recognition of reality and an indirect statement on the high level of quality even without the presence of some of the best producers.
In the Category Blancs Secs (dry whites) the top 15 point-getters were presented as a group. Numbers 1-15 were separated by a total of 1.5 points (92.4-90.9), so the margin between first and last is tiny. Indeed, the quality was high with very little to distinguish between them. However, a couple of things made a big difference, at least to this palate.
First, alcohol levels are elevated and sometimes slightly out of balance in this very hot vintage of 2015. While the increased body and sheer substance may bode well for ageing (it also might not) there is quite a bit of heat present in the finish of some of these wines. In the interests of full disclosure, my own palate, at least with respect to chasselas, tends to prefer elegant, nicely balanced wines of nuance, finesse and subtlety. My notes indicate which of those I preferred.
Second, elevated ripeness can sometimes negate the nuances of minerality which are a prime attribute of the best chasselas. I tend to prefer those wines which demonstrate a healthy mineral streak and a rounded, ripe core.
Finally, with respect to the older wines presented two points need to be made.
First, I divided the group into two camps: "More than 10 years old" and "Less than 10 years old". I found it counter-productive and confusing to taste and judge wines from 1983 and 1990 with wines from 2009.
Second, there seems to be sharp disagreement about the attributes, or lack thereof, of old chasselas. I am a fan of aged chasselas up to a point. It can be very old and still be good if it is well preserved, with some fruit, some structure and a semblance of freshness. It can even be benignly oxidized, sherry-like and somewhat decayed if it maintains a semblance of life. But maderized, fully oxidized, bitter, brown and/or lifeless does not constitute an interesting wine. I have found a few too many of these at tastings designed to show how well chasselas ages. Perhaps it is a Swiss preference but in my years of tasting old wine from around the world I have never been partial to lifeless wine. I will defer to Jancis Robinson when she comments specifically about old chasselas:
"In Montreux, there was discussion of how well Swiss Chasselas can age. I was agnostic on this topic but then had a chance, back in London, to try a selection of mature examples from some of the most celebrated Chasselas villages from vintages spanning 2008 to 1976. I loved the labels — they are unlike any others and hugely varied, although some are the kind of Victorian period pieces that a modern marketing company might seek to emulate. I also tried to love the wines but succeeded in enthusing, considerably, about only one — Luc Massy's 1984 Chemin de Fer from Dézaley, which had a fascinatingly rich cocktail of aromas. The rest seemed just a bit too muted or old for my taste."
So much for the sermonizing. Here goes.
In yet another exercise of blatant hubris I have allowed myself to rate the top point-getters at this year's Mondial du Chasselas against the official judges' rankings. The wines below are listed in the order of ranking by the judges with their cumulative numerical score, using the 100 point system, in parentheses. The figures in red indicate my ranking 1-14. For some reason I missed The Féchy "Les Curzilles" from Rossier Philippe. It was the judges' 11th place wine.
---
Outside Switzerland, Chasselas is regarded as a rather ordinary grape, more for eating than vinifying. To non-Swiss palates the relatively bland, soft style of even the finest examples takes some getting used to. I always get a shock, when taking my first mouthful, at how low in acidity it seems. But the best do have an attractive raciness and, sometimes, a certain saltiness.—Jancis Robinson
---
(4)(1/92.4) Morges, "Vieilles Vignes" 2015, Uvavins-Cave de la Côte, La Côte, Vaud: Silver/straw in color. Very aromatic floral aroma with fresh sawdust, lemon and talc. Palate is fresh, perfumed and long with lovely floral flavors and citrus flavors. Complete.

(9)(2/92.1) Valais "Blanc des Reines", Chasselas en Capitale 2015, A. & C. Bétrisey, Valais: Most minerally (pierre à fusil) nose of all the winners but also feral (hawthorn) with lemon curd. Palate is fresh but not as complex as nose. Finishes herbal, slightly green and a little hot.
(12)(3/92) Féchy,  2015, Cave de la Crausaz,  La Côte, Vaud: Straw colored. The nose is a touch shy with lemon and minerals. Palate follows with simple, fresh flavors of lemon and very crisp, juicy acids.

(1)(4/91.4) Chardonne "Grand Cru", Clos de Châtonneyre 2015,  Cave des Vignerons de Corseaux-en-Lavaux, Lavaux, Vaud: Straw/gold in color. Complex yet precise nose of pierre à fusil, lemon peel and lemon curd. Palate is rich yet bright with lemon jelly candy and sweet fruit confit flavors. Finishes long with bright, herbal and citrus flavors. Ripe, fragrant, bright and refreshing. One of my favorites.

(8)(5/91.4) Valais, "Molignon" 2015, A. & D. Mathier, Valais: Straw/gold in color. Pronounced pierre  à fusil, lemon rind and herbs on the nose. Medium-weight palate with flavors of spice and a lingering, floral and aromatic finish.
(3)(6/91.4) Perroy 2015, Domaine Chatelanat, La Côte, Vaud: Straw colored. Interesting nose of children's aspirin, fresh herbs, lemon and jasmin. Slightly reductive/mineral notes as well. All in all a nice assortment and cunningly complex. Palate is less so, but full and rich with lemon, herbs and crisp acids. Very good.

(13)(7/91.4) Villette 2015, Cave Duboux, Lavaux, Vaud: Straw/gold in color. Lighter herbal/lemon nose and a touch mineral. Nice integration of acids and fruit but perhaps a bit shy on flavor. A bit neutral. Finishes slightly hot.

(7)(8/91.3) Chardonne "Grand Cru", "Cure d'Attalens" 2015, Obrist, Lavaux, Vaud: Straw colored.  Lovely floral nose with notes of lemon and apple/quince. Sweet entry and richly textured. Palate is showing lots of rich fruit extract but also a slight burn from sulfur and alcohol. Finishes hot. This is typical of the vintage I have seen so far. Lots of promise but showing a little clumsiness now. Very good but not ready for prime time.

(2)(9/91.3) Yvorne, "Près Roc" 2015, Obrist, Chablais, Vaud: Straw/gold in color. Very pointed, uplifted nose of herbs, lemon and flowers. Palate mirrors aroma adding crisp, juicy acids, minerals and fresh herbs to the mix. This is as nicely integrated as any wine on display. Delicious!

(6)(10/91.2) Mont-sur-Rolle, "Réserve des Sociétaires" 2015, Société des Caves de Producteurs Mont-Féchy, La Côte, Vaud: Straw colored. Aroma of lemon curd and cool, green herbs. Very fresh. Bright, refreshing lemon palate. Slightly mineral. Finishes bright and clean. Not the most interesting wine of the group but a nice, balanced chasselas that drinks nicely now.

(10)( 12/91) Calamin "Grand Cru", "Le Petit Versailles" 2015, Les Frères Dubois, Lavaux, Vaud: Straw/gold in color. Witch hazel and lemon peel nose. Palate is rich and savory with a notable stony and herbal flavor. Finishes clean and bright if a little simple.

(11)(13/90.9) Yvorne, "Le Petit Vignoble" 2014, Badoux Vins, Chablais, Vaud: Straw colored. Delicate herbal, slightly green, pea shoot aroma. Slight odor of fermentation (yeasty/milky). Crisp acids and lemony flavor. Comes full circle and finishes with herbal flavors. Does not have the sheer weight of the majority of 2015's on display here.

(5)(14/90.9) Valais, Fendant "Classique" 2015, Domaine des Muses, Valais: Straw/gold in color. Very assertive, heady, punctuated fresh green herb aroma with lemon confit. Palate is sweet on entry with a glycerin texture. Lemon jelly candy flavors with a nice balancing acidity and an herbal background. Finishes reasonably long. Very good.
(14)(15/90.9)Calamin "Grand Cru" 2015, Commune de Bourg-en-Lavaux, Lavaux, Vaud: Pale straw in color. Witch hazel/gin and tonic aroma of herbs and wood bark. Somewhat alcoholic nose. Palate is crisp with lemon and green apple flavors. Finishes slightly hot which seems to be a characteristic of the vintage.

---
I have to confess that I understand that popular image, and that I learned to love Chasselas only after more than 20 years of traveling and tasting wine all over the world, when I could not find any other grape variety that celebrated its aromatic understatement and sheer drinkability so well. A good Chasselas is dry, delicate, and very refreshing, with lots of minerality and a slight floral expression.—Chandra Kurt
---
Vieux Millésimes
(more than 10-years-old)

(4)(1/97.9) Chardonne "Grand Cru", "Cure d'Attalens" 1983, Obrist, Lavaux, Vaud: Gold in color. Baked apple and sawdust aroma. Perfectly dry and slightly lanolin textured. Browning, oxidized granny smith apple and pear flavors. Aged, dusty, dead leaf and forest floor nuances. Attenuated and fragile. Some decay is showing through at the finish. Not the best example of aged chasselas.

(1)(2/94.3) Dézaley "Grand Cru", "L'Arbalète" 1990, J. & P. Testuz, Lavaux, Vaud: Pale gold in color. Pronounced cider aroma with herbs and candied fruit. Palate is much fresher and delicious with still lively orange and grapefruit marmalade sweetness. Creamy flavor and texture. Dry finish but with a lot of stuffing and an interesting autumnal motif.

(3)(3/93.9) St.-Saphorin, "Vieilles Vignes" 2000, Domaine Bovy, Lavaux, Vaud: Straw/gold in color. Sound but shy nose of citrus oil. Somewhat green and a touch aromatic. Palate starts and finishes dry with roasted grain and herbs. Slightly acidic finish.

(5)(4/92.1) Yvorne "Grand Cru", "Clos du Rocher" 2002, Obrist, Chablais, Vaid: Straw/gold in color. Green asparagus and canned vegetable nose. Very slight palate of cooked vegetables and some H2S. Some decay is already beginning to show. Finishes acidic.

(2)(5/92) Vinzel "Grand Cru" 2003, Château de Vinzel, La Côte, Vaud: Straw/gold in color. Beer-like, malty aroma. Savory palate of roasted grain and bread. Slightly sweet on entry but finishes savory and dry. OK.

---
Delicacy, some would say downright reticence on the palate, is Chasselas's blessing and its curse—lacking any innate assertiveness, the variety is a perfect mirror of its terroir and growing conditions.—Simon Woolf
---
Vieux Millésimes
(less than 10-years-old)
(1)(1/95.4) Yvorne "Grand Cru", "Trechêne" 2009, Commune d'Yvorne, Chablais, Vaud: Straw/gold in color. Fresh. lively nose of creamed apple and caramel. Palate is sweet, lively and fresh with a distinctive lemon tart flavor. Still youthful and evolving. I liked this very much.

(2)(2/94.6) Mont-sur-Rolle 2009, Domaine de Autecour, La Côte, Vaud: Straw colored. Fresh lemon oil and lemon curd aroma. Very lively. Lemony and mineral palate that is perfectly à point. No rough edges and perfectly integrated. Finishes clean, lively and a little salty. Very good.

(6)(3/91.9) Féchy "Grand Cru" 2008, Domaine du Martheray, La Côte, Vaud: Straw/gold in color. Nice nose of grain, lemon and herbs. Brisk, lemony palate that is perhaps a bit too acidic for the amount of fruit. May need some more time.

(5)(4/91.8) Dézaley "Grand Cru", "Les Embleyres" 2009, Raymond Chappuis, Lavaux, Vaud: Straw/gold in color. Aroma of wet hay and grain. Slightly reductive. Palate is loaded with savory complexity: notably roasted grain and nuts. Finishes long. Delicious.

(3)(5/91.7) Dézaley-Marsens "Grand Cru", "de la Tour-Vase No. 4" 2009, Les Frères Dubois, Lavaux, Vaud: Straw/gold in color. Late-harvested, liqueur-like notes of à la Sauternes: grain and nuts. Sweet fruit extract but dry, grainy, pulpy fruit. Baked, buttery pear. Very good.

(4)(6/91.7) Dézaley "Grand Cru" 2009, Domaine de la Chenalettaz, Lavaux, Vaud: Straw colored. Very fresh nose of citrus and herbs. Palate is sweet on entry with lemon, herbs and flint. Perfectly poised and balanced. Finishes long. Very good.

Dennis Lapuyade in artisanswiss.com (14th July 2016)
Category: Fête du Chasselas, Mondial du Chasselas 2016